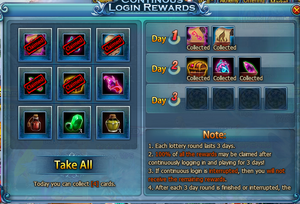 Known as both Continous (sic) Logins and Consecutive Logins, this feature rewards players for returning to the game multiple days in a row.  Unlike most game features, C. Login rewards reset at 24:00 (midnight) rather than at 4:00 (AM).
Rewards can be held in the C. Logins panel inventory -- kept seperate from a player's standard Inventory -- indefinitely, but remain both inaccessable until collected and prevent the collention of new C. Login rewards once all C. Login reward slots have been filled.  Missing a day of login will result in all currently-held C. Login rewards to be added to the player's Inventory.  Unlike most other rewards, in both the case of a missed login and the case of manual rewards collection, items from C. Logins can be added directly to a players Temporary Inventory if they do not all fit in the permanent Inventory.
Possible Rewards
Edit
Materials

Level 1 Yellow Crystal x3
Level 1 Blue Crystal x3
Level 2 Purple Crystal x2
Level 2 Blue Crystal x2
Level 1 Sacred Stone x1
Level 2 Sacred Stone x1
Level 2 Magic Crystal Stone x1

Seeds (always 1x)

Basic Star Fruit
Superior Star Fruit
Basic Lunar Fruit
Superior Amethyst Vine
Basic Snowy Vine
Advanced Snowy Vine
Superior Snowy Vine
Advanced Amethyst Vine
Basic Jade Vine
Superior Jade Vine
Advanced Lunar Fruit
Advanced Dragon Blood Fruit
Ultimate Dragon Heart Fruit
Basic Magic Fruit
Superior Magic Fruit

Stat Boosters

Level 2 STR/INT/END Potion x1
Level 3 STR/INT/END Potion x1
Level 4 STR/INT/END Potion x3
Level 1 PDEF/MDEF Scroll x4
Level 2 PATK/MATK/CRIT/CRIT DEF/PDEF/MDEF/HP Scroll x1
Level 3 PATK/MATK/CRIT/CRIT DEF/PDEF/MDEF/HP Scroll x1

EXP Boosters

Basic EXP Scroll x2
Ultimate EXP Scroll x3

Enchantment Stones

Level 4 Enchantment Stone x2
Level 5 Enchantment Stone x2
Level 7 Enchantment Stone x2
Level 9 Enchantment Stone x3

Dragon Orb Chests (always x1)

Green Orb Chest
Blue Orb Chest
Purple Orb Chest
Magic Box

Gems

Level 1 Gem Chest x1
Level 2 Gem Chest x1

Other

Invite x2
Felheart x2
Small Trumpet x3
Bounty Charm x1
Ad blocker interference detected!
Wikia is a free-to-use site that makes money from advertising. We have a modified experience for viewers using ad blockers

Wikia is not accessible if you've made further modifications. Remove the custom ad blocker rule(s) and the page will load as expected.