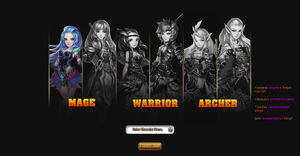 When creating a new toon, players are given the option of randomizing a name.  There is a very small number of built-in names that the randomizer can draw from, with no distinctions made for class or gender.
It is interesting to note that the names are vaguely Greek in origin but do not line up with known Greek names, modern, historical, mytholoical or otherwise.
Eusrillorin
Iadairialis
Iastyriasuir
Ilo
Phaellyphos
Phaellysurgue
Tyaestysura
Radariaphos
Yalaellophos
Ad blocker interference detected!
Wikia is a free-to-use site that makes money from advertising. We have a modified experience for viewers using ad blockers

Wikia is not accessible if you've made further modifications. Remove the custom ad blocker rule(s) and the page will load as expected.