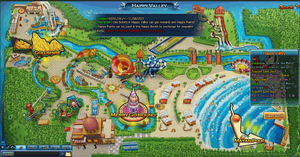 Happy Valley is an area only accessible during certain events.  Contained within Happy Valley are three sub-locations: Goldenshire, the Merry-Go-Round, and the Mayan Pool.  Despite being classified as a location, Happy Valley is not truly a map but more of a prize area.  While anyone can visit the area, Happy Valley is only actually usable to those with tickets for the sub-areas.
Each ticket allows one visit to the ticket's corresponding area.  Each visit gives the players  a prize items.  If a player uses 50 same-type tickets at once, they are guarantied to win one Level 5, Level 6, Level 7 or Level 8 Gem Chest.
The prizes from each area tend to corrospond to an event that's happening in tangent with the opening of Happy Valley.  While level 5 to level 8 gems are always available, there is anlo usually the chance to win Wings, Clothing, and Shards.  Each area also tends to have at least one exclusive prize item.
Blessing
Great Bear Power
Falcon Power
Rhino Power
Mammoth Power
Viper Power
Cheetah Power
Tortoise Power
Platinum Development Card
Level 2-8 Gems
Life Source
Life Crystal
Jade Dragon Essence
Luna Dragon Essence
Level 4 Purification Essence
Level 5 Purification Essence
Goldenshire Ticket
Merry-Go-Round Ticket
Mayan Pool Ticket
Traveling Vendor
Edit
During events where more than one type of ticket can be won, the Traveling Vendor will usually allow players to exchange tickets.  Rather than being a one-for-one deal, players trade for two tickets of their choice by using one ticket each for the two two subareas.  Players can make a total of six ticket trades per day; two exchanges for each type of ticket.