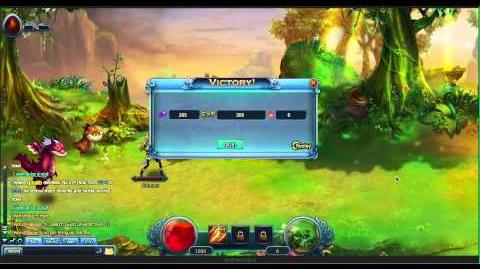 Dragon Pals is a browser based adventure RPG which was launched in Alpha mode on April 15th of 2013. It features a colorful world saturated with interesting locations, unique events, and engaging characters. Players discover, unlock, customize and train pet dragons to fight alongside them all while participating in hundreds of unique quests, activities, and events!
Gameplay features a side-scrolling, turn-based fighting atmosphere enriched with a visually appealing art style. With so many different kinds of events, players of all kinds are sure to find something they love. Fight alone or team up with friends and experience the captivating world of Dragon Pals as you fight to save the world!
Alpha Testing
Edit
Dragon Pals began Alpha testing with a closed server accesable only to players who had a character in another R2 game.  In the lead-up to launch, Dragon Pals was compared multiple times to Wartune, which is also run by Reality Squared.  While Alpha testing was originally set to begin on April 14th, a critical bug delayed the launch of the test server until the 15th.  Due to the delay in starting, the Alpha test period was extended past the original deadline and ran until May 2nd, at which point the test server was closed and its Toons wiped.
As a reward for players who got their Toon to level 42 or higher during the Alpha testing, a gift pack was distributed to returning players on the first and second Beta test servers.  The pack contained Advanced EXP Scroll x5, 200,000 Amethysts, 300 Vouchers, 99 Roses x2 and eight level 2 Gem Chests.
On April 18th, the Alpha testing server underwent heavy updating that caused lags, but fixed a large number of bugs that were reported early in the play testing.
Beta Testing
Edit
The first Beta test server wasslaunched of May 3rd of 2013  US East.  The next day, May 4th, a second Beta test server was launch for Oceanic time zones.
Where to Play
Edit
Unlike many games, Dragon Pals does not host its game on its own website nor does it stick to just one gaming venue through which players can access the game.  It is important to note that each of these websites hosts a unique version of the game and they are not connected to each other.  This means that a server in one location will never merge with a server dedicated to another hosted location.
Perhaps the most popular version of the game can be found on Facebook, with over 100 servers created.
Characters
Edit
Despite the amount of content in the game, there are few characters for player's to interact with.  The most prominent character is, of course, the player's own Toon.  Besides that, there are a handful of Non-Player Characters who assign quests and move the game's story forward.