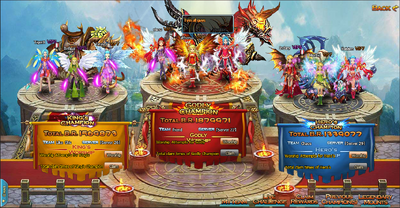 Cross Server Challenge (CSC) is PVP event where teams fight against other teams from current server or different servers to win and become Champions.
Teams who applied for Cross Server Challenge will apply for qualifer (top 64 qualifers can move on to Group Stages). Group Stage is split into 8 groups and 4 teams has to get points in order to get into top 32 challenge. Top 32 teams has to fight against other teams to get to Championships.
Creating a team takes 5 million amethysts to apply for Cross Server Challenge. You can also lock the team so random players cannot join unless you invite them to join. 
Signup starts on late Sunday (10pm server timezone) until Tuesday (7pm) then Quaifer & Group Stage begins. It finishes until 11pm then top 32 is ready. 
Top 32 starts on Wednesday from 10pm - 11pm (3 matches)
Top 16 starts on Thursday from 10pm - 11pm ( 3 matches)
Top 8 starts on Friday from 10pm - 11pm (3 matches)
Top 4 starts on Saturday from 10pm - 11pm (3 matches)
Finals starts on Sunday from 10pm - 11pm (5 matches)
When Finals is finished. Cross server shows the champions on the picture (Teams who won the challenge) And Teams who applied can finally claim their rewards.
When Cross Server Challenge is over, it takes a week break to apply again to apply for Cross Server Challenge again.
The more you beat teams, more amount of rewards you get. Rewards can only be claimed if you particated Cross Server Challenge. 
Here are the list of rewards: 
Champion Points 
Runestones
Gems
Life Crystals
Life Sources
Affections
Serendipity Points
EXP Potions
Ad blocker interference detected!
Wikia is a free-to-use site that makes money from advertising. We have a modified experience for viewers using ad blockers

Wikia is not accessible if you've made further modifications. Remove the custom ad blocker rule(s) and the page will load as expected.